Both my daughter and her father have recently been opposed to me recording bedtime stories. But since I bought this book on the condition that I record Dad reading it, they were unable to refuse. In fact, they are reading it together. Click on the title to listen and enjoy!
Ce livre se prête à merveille à une lecture à deux, et j'ai insisté auprès de ma fille et de son père pour pouvoir le faire. Cliquez sur le livre pour écouter et régalez-vous !
Dieses Buch haben meine Tochter und ihr Vater zusammen gelesen. Klickt auf das Buch zum Anhören. Viel Spaß!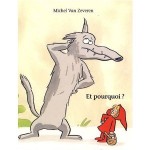 Michel Van Zeveren – Pastel / École des Loisirs – ISBN 978-2-211-08639-4